Are you tired of the transactional atmosphere at your general dentist's office? A family dentist offers a more flexible environment with more of a personal touch. Our clinic has been staffed with your families in mind – our confident team of professionals chooses to work here because they love the families they meet and the atmosphere our clinic provides. Our team provides comprehensive oral health care to patients of all ages and abilities. Here's what we want families to know about partnering with a family dentist:
We intend to get to know each of our patients. Our aim as a family dental clinic is to foster long-term relationships with our families. We watch children grow and enjoy following their dental development. Wherever possible, we encourage our families to take a proactive approach to oral health.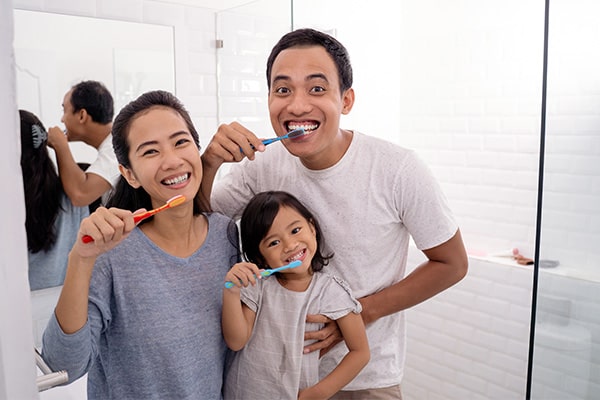 When you make the decision to switch to a family dentist, you're moving your whole family over to a new practice that they're unfamiliar with, so we try to make it easy. When our patient families join us, they enjoy the flexibility of our clinic.  We offer extended appointments wherever necessary, and we make early and late appointments available to accommodate various schedules. If it is more convenient to bring your family in for their regular appointments on 'dentist day' rather than making several appointments, we will book your family members in succession so that you can check 'dentist' off the list for another six months!
We can't wait to see your dazzling smile!
We always like to build a relationship with our patients before they need to see us for a procedure wherever possible. In order to set the stage for a lifetime of positive association with the dentist, we know it's important to offer kids an opportunity to celebrate wins. We make sure to reward every cavity-free smile with a dentist-approved mystery treat.
We know that in some cases children will resist their dental appointments. Our clinic is a judgment free zone, and we want parents to feel a wave of relief when they pass their child or loved one over for care. With many combined years of experience, our team has spent a lot of time with anxious children, and we've learned a lot. You will find our team to be a friendly, reassuring presence to your child and to you – so that going to the dentist is easy.
Our clinic regularly serves special needs patients ranging from autism and sensory disorder to dementia. Each patient has different comfort needs and we take steps to make the process as easy as possible. We encourage our patients to bring a comfort item along with them to the clinic. This could be a stuffed animal, a favourite blanket, or even headphones.
We work with the guardians of our patients to understand the challenges associated with caring for their loved one's oral health. Many people with sensory disorder find gum stimulation uncomfortable which can make dental appointments unpleasant – both for the patient and their chaperone. To mitigate this, our 'sensory' families know that dry brushing the gums to pre-stimulate them before going to the dentist makes a significant difference.
Are you having trouble flossing? Looking for ideas to get some 'buy-in' from your kids about their oral health? Your dentist and your dental hygienist are there to support you with information and practical insight.
Are you looking for ways to make brushing teeth fun for kids?
Making toothbrushing fun for kids is all about role-modelling. Older siblings will enjoy helping prepare the toothbrush for their younger sibling or brushing teeth together. Maybe you'll find some classic toothbrush songs on YouTube, like the classic 'Toothbrush Song' by Raffi.
Oral health doesn't begin and end with brushing and flossing. It is important that children have good guidance around nutrition and food choices, and an understanding of why limiting sugar is good for our body as well as our teeth.
The habits that children learn in the first seven years of their life are said to be the ones they carry with them for a lifetime. Starting good habits today will help to set your children up for a lifetime of good oral health. These basic habits greatly decrease the incidence and onset of oral health problems like gingivitis and decay. And all in two minutes, twice a day.
For questions about this or other services offered by our general dentist, contact our clinic today.